We are looking for contractors! If you are interested give us a call!
General Contractor in Hoffman, MN
Hoffman Building Systems is a general contractor that's served the Hoffman, Kensington, and Barrett, MN region since 1998. We provide building services and essential supplies for both residential and
commercial construction
, helping you achieve results that improve your building in meaningful ways. From post-frame buildings, to custom windows, to interior doors, we're a complete resource for everything you need to build right.
We're recognized by the Hoffman Commerce and Agricultural Club.
Access to Post-Frame Construction and Building Supplies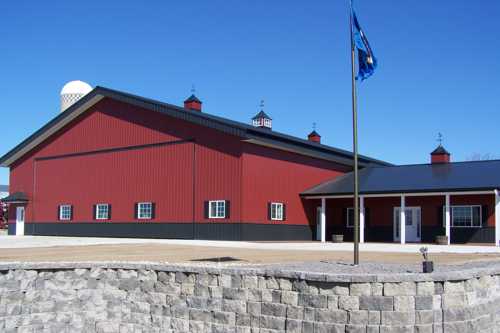 Hoffman Building Systems has decades of experience as professional building contractors in Hoffman, MN. We specialize in remodeling businesses, and constructing new buildings from scratch using durable, affordable and attractive post-frame construction methods. We're able to build and personalize structures quickly, at low-cost, for results that exceed the expectations of our customers.
We have a record of success providing superior results for our residential clients. We build post-frame homes, garage builds, workshops, metal pole barns, and more—all according to your specifications. Our team of building contractors also has experience remodeling any room of the house, from kitchens and bathrooms to bedrooms and basements. No matter what you can dream up, our team works hard to give you exactly what you want, and what you expect.
Post-frame buildings are also ideal for a wide range of commercial and industrial uses. We have an extensive history of these projects, affording us the capabilities to tackle yours with purpose and vision. Clients choose our post-frame construction buildings because they're so versatile. You'll be surprised at how many options you have to create the space you need with the look you want. As an added bonus, our post-frame buildings are virtually maintenance-free, so you can get back to business without worrying about the headaches and expenses of building repairs.
We're also your resource for a wide range of building supplies for virtually any construction or remodeling project you can think of. Whether you need custom windows and doors for your interior spaces or quality lumber for a new deck, you'll be surprised at the variety and quality we can bring to you at competitive prices. It all goes back to our mission of helping you build right.
We're proud members of the National Federation of Independent Business (NFIB).

We work with post-frame construction brands including Manion Truss and Titan Timbers.

We hold a current Residential Building Construction License in the State of Minnesota.

We have a superior, longstanding A+ rating from the Better Business Bureau (BBB).
We're Leaders in Post-Frame Construction
Hoffman Building Systems gives you what you want in a building, meeting your exact specifications. Whether you need building supplies or construction of an entire post-frame building, we're ready to serve you. Contact us today to learn more about our building contractors' services.
Lifftin Truss
Manion Truss
MetalSales
Thermo-Tech Windows
Timber Technologies Titan Timbers
Proudly offering general contractor services and
home remodeling
to the following areas:
Douglas County MN
Grant County MN
Hoffman MN
Otter Tail County MN
Pope County MN
Stevens County MN
Traverse County MN
Wilkin County MN